Miễn phí vận chuyển với đơn hàng từ 200K

How matcha is made
Tea plantation
Chinh Son Matcha is originated from Japanese tea produced by advance technology which is 100% imported from Japan. Japan tea cultival is grown in Northen Vietnam highland area to create the finest material for matcha producing.
Production process follows Japanese standards and controled by the Japanese experts to bring out the best quality of products. The process completely free from toxic chemicals such as pesticides, preservatives, and coloring admixture.
Harvesting
The production process of matcha begins before harvesting about 15-20 days. Time is an important requirement to decide the quality of nutrients contained in tea leaves. At that time, the tea crop is covered with black mesh frabric to isolate the buds and tea leaves from direct natural light, prevent tea plants to grow in height, enrich chlorophyll, amino acid and antioxidant. This process makes the tea has sweet aftertaste.
Harvesting conditions require strict compliance and management. The harvesting method depends on the demand for product quality and health of tea plants. Normally, after removing the black mesh fabric for 15-30 minutes, tea leaves must be collected soon. 1 bud and 3 leaves if picked by hand or 1 bud and 4-5 leaves if picked by machine.
Steaming and drying
The high-temperature steaming retains buds and leaves in fresh green color. The purpose of this step is to prevent the leaves from being oxidized. Then tea leaves are cooled down to dry out moisture and sorted into sencha and tencha. If the leaves are rolled up before drying, they are sencha. If the leaves are laid out flat to dry, they become tencha – the raw material for matcha.
Grinding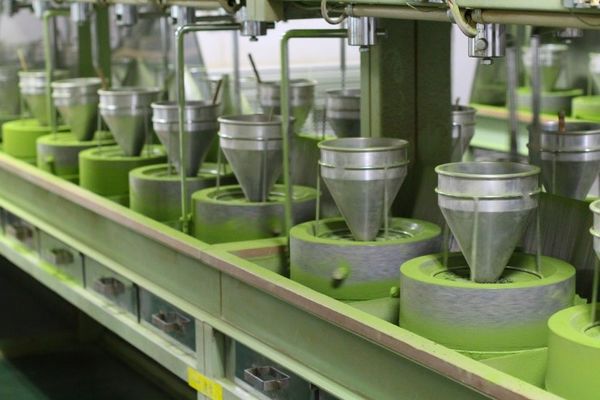 Tencha after removed from the ribs are taken into a specialized grinding machine. Grinding process takes place in a separate chamber equipped with automatic vibration machine and air conditioner. The smoothness of matcha is 80 micromet. During grinding process, the temperature is kept below 20°C. Thanks to advantage grinding process, matcha can keep high content of antioxydant, mineral, vitamin and fiber.